Edmonton's Approach to Managing Historic Resources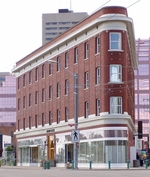 Historic resources of all kinds are a link to our past and give citizens insight into the growth and development of Edmonton from a small prairie town to a significant Canadian city.
These resources include magnificent mansions that were built by pioneer entrepreneurs more than a century ago, commercial buildings with solid brick construction, wrought iron ornamentation and ornate wood trim, and public structures that feature classic architectural styles.
The City of Edmonton is proud of its historical resources and works hard to preserve them.