Find out about City of Edmonton Archives' current events and activities throughout the year.
Events
Free Admission Day - FAD!
Join us from 10am to 6pm at the Prince of Wales Armouries on Sunday September 24 for Free Admission Day.
FAD is a city-wide event with free entry and special events at many of Edmonton's recreation facilities and attractions, including the Muttart Conservatory, the Edmonton Valley Zoo, and us.
Highlights of the day include behind the scenes tours, costumed interpreters, and family friendly activities. See our Event Poster for more details.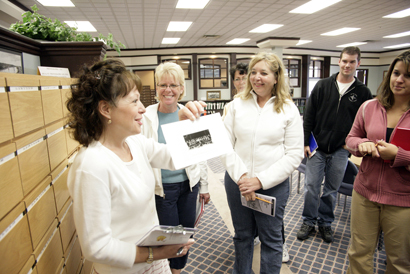 City of Edmonton Archives tour in 2005.
Bonus: we'll give away prints of archival images to everyone who brings non perishable food items for the Edmonton Food Bank on Free Admission Day.
Also participating in FAD at the Armouries:
Edmonton Living Rooms
This exhibit combines storytelling, art and material culture to share the unfolding stories of seven Edmonton refugee communities and reflects our country's evolving cultural identity. Community animators will be onsite.
Edmonton Historical Board
Free Cake! (from 1pm and while supplies last)
Friends of Historical Northern Alberta Society
Learn about their new app History Check! Society members will be onsite giving demonstrations and Sheila Willis will be presenting on the app at 1pm
Loyal Edmonton Regiment Military Museum
Tour their galleries and talk to costumed interpreters (William and Jenny Griesbach). Kid's activities include dressing like a soldier, find out how heavy a WWII helmet is!
South Alberta Light Horse Regiment
Talk to soldiers and see a Gwagon vehicle.
Telephone Historical Centre
Have fun with their hands-on exhibits and enter to win a working vintage phone.
Exhibits
Canada 150
Happy Sesquicentennial! We celebrated with trivia and exhibits, see our Canada 150 at the Archives page for details.
Exhibit
Edmonton Police Service: 125 Anniversary
The City of Edmonton Archives is pleased to be hosting an exhibit provided by the Edmonton Police Service in honor of their 125th Anniversary. The exhibit highlights uniforms, equipment and photographs relating to different branches of the police force over time. Visitors can read daily entries from the 1901 log book, compare various hats and badges used over the years and contemplate different forms of restraints for prisoners.
The Exhibit is located on the concourse of the Prince of Wales Armouries.
Activities
Tours
We offer behind the scenes tours of our vaults as part of Doors Open Edmonton in July and Free Admission Day in September. Stay tuned to this page for further information on when tours are offered.
Courses
Throughout the year, archivists at the City of Edmonton Archives offer courses on topics ranging from how to use the Archives for specific projects (like researching your house) to how to preserve your personal records. We do this to share our knowledge and raise awareness of the Archives at the same time.
Social Media
We contribute to the City's social media outlets like Twitter and Facebook and we also write blogs for Transforming Edmonton.
Our most popular blog highlights Woodward's impact on Edmonton and sports fans will love our blog on Edmonton Eskimo Scrapbooks.
Virtual Exhibits
We launched our first virtual exhibit in 2012. Our award winning exhibits tell stories about Edmonton and Edmontonians using the records at the City of Edmonton Archives.