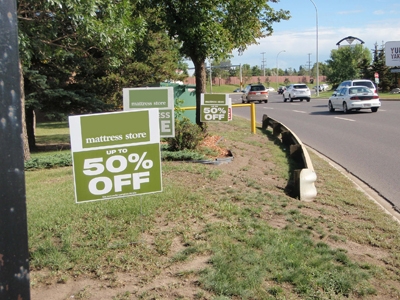 Sign off on a Clutter Free Edmonton
The Traffic Bylaw regulates the placement of signs on roadways, light standards, and other areas that have vehicle or pedestrian traffic.
There are 5 types of signs:
Poster
Sandwich board
Open house
Temporary
Election
Placing a sign illegally on City of Edmonton property is a bylaw offence with a fine of $250.
The Sign Rules and Regulations for placement of signs on City property are easy to follow.
Portable Signs
The temporary sign regulations of the Zoning Bylaw allow businesses to advertise occasionally while discouraging multiple signs on a site. You need a development permit to place these signs on private property. If you require a development permit for a temporary sign, contact Sustainable Development.
You should consider purchasing a permanent sign if you want to advertise your business year round.