Information on current listings of City land available for sale.
34.3 Acres of Development Land in Rampart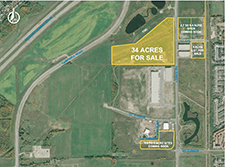 16116 - 142 Street & 16121 Campbell Road
$20,000,000
Submission deadline: Monday July 15, 2019
MLS Number: E4156119
19.77 Acres of Mixed Use Development Land
16310 – 21 Avenue SW
$5,800,000
Submission deadline: Friday June 28, 2019
MLS Number: E4156036
Two 0.54 Acre Parcels of Residential Development Land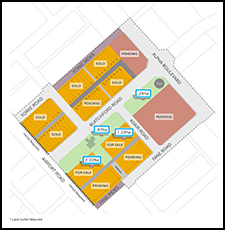 Blatchford Land Sale and Development Opportunity
Blatchford is currently seeking builder partners who share our vision for people-first design, high architectural standards and energy-efficient buildings.
7230 Adair Road NW
$1,041,700
25 Airport Road NW
$1,043,900
The Meadows of Laurel
Public Lots Sold Out - Next Phase 2020
Thank you to everyone who purchased a lot in The Meadows of Laurel and agreed to build a more energy efficient, sustainable home. Your commitment to living a more sustainable lifestyle is blazing a trail for others to follow.
But don't worry, it's not too late to join the green lifestyle being created in this neighborhood. Visit any one of these qualified Built Green builders to have them build you your own environmentally sustainable dream home in the Meadows of Laurel.
About Land Sales
We have many well located properties for sale, ranging from single family lots and houses to multi-use commercial and industrial sites.
The City values its association and its partnership with the REALTORS® Association of Edmonton and as a licensed broker it lists many of its properties on MLS® .
When evaluating offers or applications to purchase listed City properties, the amount of the selling commission that may be payable by the City is not considered part of the evaluation. If you were introduced to a City listed property by a licensed agent, we encourage you to submit your offer or application through that agent.
Application Forms
If you are interested in any of our properties, fill out our online Interactive Buyer's Application form, or print and complete the Buyer's Application Form, then mail or fax it to us.
Before you fill out either one of these forms, please contact us to ensure the property is still available and the information has not changed.
Property Inquiries
If you are interested in purchasing or leasing land which you have not found listed for lease or sale on this site, please complete the Property Inquiry Form. After filling in the form, the process is as follows:
You will automatically receive (via email) a copy of your completed form.
You will need to print a hard copy of the completed form and mail it back to the City, along with a cheque for $255. Please mail the completed form and cheque to:
Attn: City of Edmonton Land Inventory Management Unit
10th Floor, Edmonton Tower
10111 104 Avenue NW
Edmonton, Alberta T5J 0J4
Once the City receives your mailed-in form and cheque, they will process your payment, and your property inquiry will be processed.
Note: Property inquiries can take anywhere from 4 weeks to 6 months to complete, depending on the property you are inquiring about.
Please email landinventorymanagement@edmonton.ca if you have any questions regarding your application (please include the neighbourhood and address in the subject line).
Property Sales Mailing List
Subscribe to receive immediate notification of new listings.