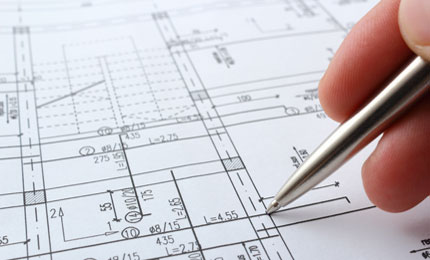 You will need a development permit if you plan to construct a new building, alter an existing one, change how a property is being used, or change the scale to which a property is being used.
A development permit is written approval from the City that your plans are within the bounds of the Zoning Bylaw regulations.
You are required to have a valid development permit before you can apply for a Building Permit to construct the building or structure, or to apply for a Business License.
Development permit applications are encouraged to be submitted in person, where staff will screen and ensure that your application is complete. Electronic applications are not accepted at this time.
Applications can be made by an agent or consultant on behalf of a landowner when accompanied by a Letter of Authorization.
For major and/or complex development proposals, an applicant may request a pre-application meeting prior to formally submitting a Development Permit application.
The Commercial/Industrial Development Application form, required Drawings and Information Checklist, and Letter of Authorization can be found at edmonton.ca/currentplanningforms.
All development permit applications must meet the zoning regulations of the property, such as land use, lot dimensions, lot area etc. To verify the zoning of a property, visit our office or maps.edmonton.ca.
Proceed to 'Zoning' located on the right side of the photo;
Review the disclaimer and accept it by pressing 'Ok;
Proceed to 'Locate Title by Address' and enter the property's address;
Go to 'Search' to view its zoning and any overlay information
Zones and Regulations
The Zoning Bylaw outlines the uses and development regulations of a particular zone.
Go to "Part II – Zones, Direct Control Provisions, Overlays and Special Areas" within the left-hand navigation column and choose a zoning category to find the zone you are looking for.
Zoning Matrix
If you know the type of use and want to know which industrial zones provide for that use, the City's zoning matrix allows you to search for zones by use.
Development Permit Approval Process
An applicant submits a development permit application.
A Development Officer reviews the application to ensure it is complete.
A Development Officer reviews the proposed development to ensure compliance with the Zoning Bylaw and other relevant legislation.
Note: The application may also be reviewed by other City departments. As part of this review process, you may be contacted to resolve any concerns and revise your proposal prior to the Development Officer approving and issuing the Development Permit.
The Development Officer reviews input and identifies any issues.
The Development Officer renders a decision.
The Development Officer:
Shall approve applications, with or without conditions, for permitted uses that conform in all respects to the Zoning Bylaw.
may approve, with or without conditions, applications for discretionary uses, or variances to the Zoning Bylaw;
may refuse the application if it does not conform to the Zoning Bylaw.
Development Appeals
An applicant has the right to appeal any decision of the Development Officer, including a refusal, or approval with conditions; except where the decision results in the approval of a permitted use with no conditions that meets all the requirements of the Zoning Bylaw. The public can also appeal any decision by a Development Officer, typically where a decision involves the use of discretion or variance of a regulation granted by the Development Officer.
Appeals are formally made to the

Subdivision and Development Appeal Board

(SDAB).
Your appeal must be registered with the SDAB within 14 business days of the decision notification. There is a fee for filing an appeal.
Anyone affected by your proposed development may also appeal if they disagree with the Development Officer's decision.
They must submit their appeal in writing to the SDAB within 14 business days of the decision.
The decision of the SDAB can be appealed to the Court of Appeal, but only on a point of law or jurisdiction.
The development permit process chart outlines the various steps involved in obtaining a development permit.
Development Permit Review
Once a development permit application, along with applicable fees has been submitted, the time for reviewing and rendering a decision will depend upon the complexity of the application and work volumes.
Major development applications can take up to several weeks before a decision is made. They are typically circulated to other civic departments for review and comment. These include:
City-Wide Planning
Development Services
Development Coordination
Parks Planning
Transportation Planning
In support of a major or complex development, the applicant may be required to submit, as part of the application, one or more special studies. Special studies include but are not limited to:
Assessment of Risk prepared by an environmental professional
Traffic Impact Assessments (TIA)
Parking Impact Assessment (PIA)
Environmental Site Assessment (ESA)
Geotechnical Report
Sun Shadow Impact Study
Floodplain Information
As conditions of approval for a major or complex development, the applicant may be required to enter into a servicing agreement to pay for off-site improvement or redevelopment levies, including, but not limited to:
Industrial Development General Performance Standards
Proposed developments in Industrial Zones are required to meet the General Performance Standards for Industrial Developments of Section 57 of the Zoning Bylaw.
These performance standards are based on the particular Industrial Zone. Section 57 regulates the outdoor appearance and outdoor use of the site, the exterior materials of the building, and restricting the activities to within the Industrial building itself.