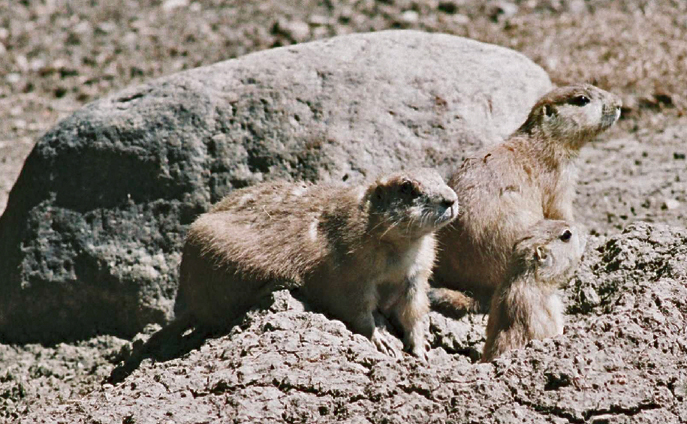 Scientific Name: Cynomys ludovicianus
Habitat: prairie grasslands
Diet: grasses and herbs; also grasshoppers and beetles
Life span: female 8 years; male 5 years
Young: 4-5 young/year (pups)
Size: 1-1.5 kg (2.2-3.3 lbs)
The black-tailed prairie dog is extinct in Alberta.
They are often mistaken for Richardson's ground squirrels or gophers. They are the most social members of the ground squirrel family. Individuals live alone in their burrows and tunnels. Close relatives live in burrows nearby to form family units, coteries. All burrows have an entrance, an exit and many rooms. Burrows can be as deep as 4.5 m (15 ft) underground. These coteries form towns that can be as large as 405 hectares (1,000 acres).
Family members greet each other with a 'kiss'. To alert the other members of the coterie of danger, a 'sentry' prairie dog stands guard at the entrance of the burrow. They jump up and give a 'yip' bark. Pioneers crossing the plains called them dogs because of this barking sound.
When prairie dogs naturally abandon their homes, rabbits, burrowing owls, black-footed ferrets and snakes use these vacant burrows.  With the introduction of ranching and farming in the early 1900's, the prairie dog population began to decline. Today less than 1% of the prairie dog population and habitat remain.
This loss of prairie dog towns has resulted in the black-footed ferret and the burrowing owl population becoming endangered as there is little habitat left for these animals.
Unlike Richardson's ground squirrels, black-tailed prairie dogs do not hibernate. They stay underground for several days during extremely cold weather. You can often see the prairie dogs at the zoo playing in the snow on warm winter days.
Learn more about this species:
These are some other websites that we think have more great information about this species.