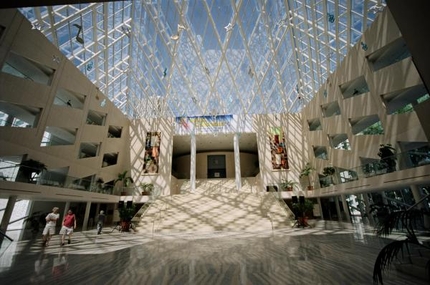 Planning a Special Event? Host it at City Hall!
Arrangements can be made for special events to be held in the City or Heritage Room at City Hall. These rooms are available for registered, not-for-profit, local community groups presenting free activities of interest to the public.
Rooms Available
Heritage Room
Seats 25-30 people
Maximum occupancy is 90 people standing
Can accommodate a variety of set-up needs
City Room
(picture above)
Can accommodate large events such as media launches, community events, and so on
Room Bookings
Available for use by local registered non-profit organizations. These groups are also required to hold insurance coverage in the amount of $2 million general liability.
Available for events held during normal building hours.
Can include chairs, tables, table cloth and skirting, staging and sound system, and additional on site custodial and security, if required (organizers will be charged only if these services are needed).
Contact the Civic Relations Coordinator for booking.
Please note: Incremental costs for civic services are the responsibility of the event organizers.
For more information please read:
City Hall Public Space Use Policy C561
Additional Options:
Free guided tours of City Hall can also be booked in conjunction with a booking.
Have Your Photos Taken at City Hall!
City Hall is also available for visitors who wish to take advantage of the building's fantastic photo opportunities. The following 1.5 hour time slots can be booked for use in City Hall during professional photo shoots:
11am-12:30pm
12:30-2pm
2-3:30pm
3:30-5pm
Cost: $80 per 1.5 hour time slot. Fee is non-refundable.
Dates available are primarily on the weekends, although weekday bookings can be accommodated depending on space available.
Please note: Wedding Ceremonies are not permitted inside City Hall. Professional photographers are not provided by City Hall.