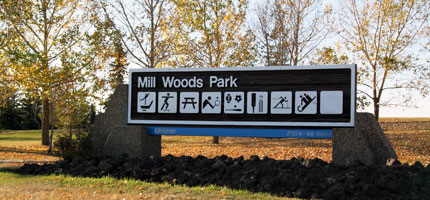 The Mill Woods Sports Park was initially designed in 1982 as a District Activity Park to accommodate various active recreational opportunities for the surrounding community.
Significant changes have been made to the original plan during construction of the park, and it has been developed in increments. Landscaping of the site was completed with the original sports field development and there are many mature trees on site. The east side is heavily treed, while the west and central portion of the site is sparsely planted.
The park is located on a 40 ha site in south Edmonton and contains many amenities for the area:
Northwest Corner;
Two high schools, Holy Trinity and J. Percy Page,
Mill Woods Recreation Centre is located at the northwest corner of the site;
East Side;
Large stormwater management facility
Spray park
Sport facilities throughout the site;
Ball diamonds
Soccer and Football fields
Track and Field facilities
Tennis courts
Cricket pitch
Skateboard park
These facilities serve local sports groups, the two schools, and the public.
Amenities in the park include picnic sites, seating and rest areas. Most amenities are located in the east side of the park in conjunction with the stormwater management pond and spray park.