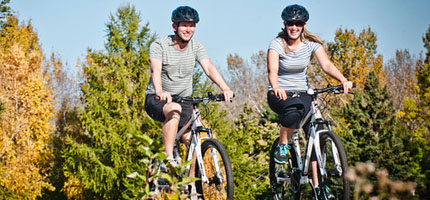 Mill Creek Ravine is a tributary ravine system of the North Saskatchewan River Valley that winds its way north-south from Connors Road to Argyll Road (63 Ave). There are all sorts of places to explore. It is a favourite of dog walkers, runners, and mountain bikers.
Features & Amenities
Parking at 82 Avenue
Paved and granular shared pathways
Walk-in picnic sites
Portable toilets
Emergency BluFone, a blue emergency help phone, near Mill Creek Outdoor Pool
Accessibility
Limited accessibility to washrooms
Limited accessibility to picnic sites
Limited trail accessibility
Connecting Parks and Green Spaces
To the North you will find Muttart Conservatory and Henrietta Muir Park.
To the North you will find Mill Creek Ravine Park.
Nearby Facilities and Attractions