New rules effective October 17, 2018.
No smoking or vaping tobacco and cannabis.
edmonton.ca/smoking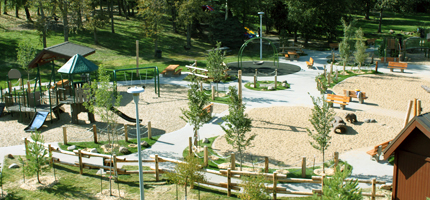 Kinsmen Park is in the heart of the river valley off Walterdale Road on the south side of the North Saskatchewan River.
Features & Amenities
Picnic Sites on a first come, first served basis
Playground
Washrooms can be accessed from inside the Kinsmen Fieldhouse
On-site parking.
Accessibility
Curb cuts in parking area
Safe drop-off/pick up area
Designated parking
Accessible pathways
Partially accessible picnic areas and playground areas
Connecting Parks and Green Spaces
To the east you will find Queen Elizabeth park

To the west you will find Emily Murphy park
Nearby Facilities and Attractions