New rules effective October 17, 2018.
No smoking or vaping tobacco and cannabis.
edmonton.ca/smoking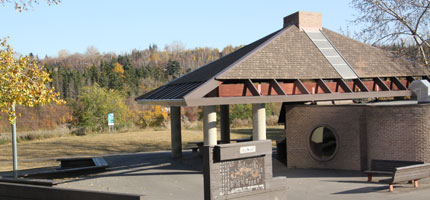 Dawson Park runs between 84 Street and 92 Street on the north bank of the North Saskatchewan River, extending north to Jasper Ave. The park shares a long history of industry and coal mining dating back to the turn of the 19th century.
Features and Amenities
Large Off Leash Area
4 picnic sites on a first come, first served basis
Amenity building with washrooms
Park benches
Parking lot
Emergency blue phone
Accessibility
Curb cuts in parking area
Safe drop-off/pick up area
Designated parking
Accessible paved pathways
Accessible picnic areas
Accessible washrooms
Connecting Parks and Green Spaces
To the northeast you will find Kinnard Park and Ravine system
To the south you will find Louise McKinney Riverfront Park
Nearby Facilities and Attractions