I Want To...
Call or Click 24/7
for the information you need about City Services.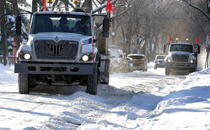 Find out about seasonal parking bans, neighbourhood blading, and community sandboxes.
Edmonton is growing rapidly and must accommodate growth. The City has begun the annexation process for lands to the south.
Learn more about bandit cabs and how to recognize a licensed City of Edmonton taxi.
Popular Topics
Clareview Community Recreation Centre and Clareview Library opened to the public on Monday December 15, 2014.
Bring your household hazardous waste such as leftover paint, oven cleaner and car batteries at no charge!
This online tool showcases performance data for some of the municipal services the City provides.
ETS Trip Planning
ETS Trip Planner