I Want To...
Call or Click 24/7
for the information you need about City Services.
The City has begun an annexation process to acquire land south of its boundary.
Register your kids for daycamps in City of Edmonton facilities.
Danielle Metcalfe-Chenail named Edmonton's third Historian Laureate.
Popular Topics
Edmonton will be conducting a Municipal Census this spring. For the first time, Edmontonians will have the option of completing the census questionnaire online.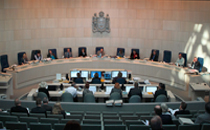 Find information about your elected officials and your municipal government.
This project will increase vibrancy downtown and help revitalize the heart of our city.
ETS Trip Planning

ETS Trip Planner